When our fourth grade classes at Sixes Elementary make a wish... let's just say they have a lot of influence somewhere.
Welcome to Snow Jam 2014 in Atlanta, Georgia. Tuesday morning, January 28th metro Atlanta was greeted by snow soon to be followed by black ice. The next 24+ hours resulted in insane traffic jams, students stranded at school or on school buses and workers stranded at the office for overnight or even longer.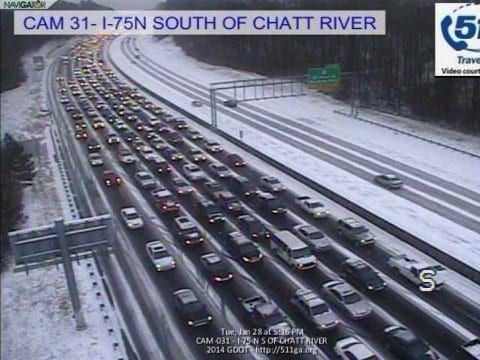 In the midst of the snow disaster,
The Random Acts of Kindness Week
which is scheduled for February 10-16 came early. Good Samaritans appeared everywhere and distributed food and water, helped get cars out of danger and even opened up their homes to stranded motorists. There are lots of stories of kindness, bravery and compassion. Here are just a few:
Michelle Sollicito saw a need and created a Facebook page-SnowedOut Atlanta where stranded motorists and others in need could post. Over 50,000+ member eventually logged on and over 400 people were helped.
Coach Joe Keller of Dugan Elementary school used his truck to transport over 100 studnts and staff to their homes. He spent six hours making sure everyone was able to get home and it was his birthday!
It wouldn't be a SnowJam without a baby being born! Here's Grace who was born in a car stuck in traffic on I-285. The baby was named Grace and delivery was assisted by Sandy Springs police officer Tim Sheffield. It was also his birthday so he and Grace will have a special day in common!
Zach Haedt and Sam Tarquina created social media buzz for serving up hot cocoa to motorists stranded on I-75.
Dorothy Marsil
, founder of the
SnowedOutAtlanta- Thanks & Rescue Stories
Facebook page, summed up everyone's feelings on Snowpocalypse 2014 perfectly: "The real news story should be all of the people who are helping people in need. KSU students were out pushing cars and inviting people in. People were walking from their homes to the road and bringing water and snacks to stranded motorists. Businesses were opening up or staying open and housing stranded people. A manager at Kroger was cooking up breakfast for everyone in the deli for free. Mattress Firm in Canton invited in people who were stranded near their store. Several restaurants are serving free food to those who can get there. People on the roads who still had gas were taking others into their cars to allow those who were walking to warm up and charge their phones. That is amazing! This is the real story!"
What an amazing testament to the resilency and the compassion of all. Despite the chaos created by Mother Nature, people rose to the occasion and helped each other in every way imaginable. Makes one proud to be part of such a great community!
Next year though, Fourth Grade needs to be careful what they wish for...